03.12.2021 - 06.03.2022
The Italian writer Lodovico Guicciardini (1521–1589) was born exactly 500 years ago. He wrote the first complete city atlas of the Low Countries. It proved a great success. For that reason the Museum Plantin-Moretus is not allowing this special anniversary to pass unnoticed. In the exhibition An Italian in the Low Countries we shall be travelling back in time to the prosperous Netherlands of the 16th century. Relive our region through the eyes of a young merchant from Florence.
Who was Guicciardini?
Guicciardini was an Italian merchant who worked in the Antwerp branch of the family business since 1541. Like Christoffel Plantin, Guicciardini was a migrant who moved to the Netherlands for his job and settled in Antwerp. He remained in Antwerp until his death (22/3/1589).
A description of the Netherlands from 500 years ago
Lodovico's career took a turn when he started writing in 1552, an activity that he believed was more profitable than his work as a merchant. In 1567 he published his bestseller: Descrittione ... di tutti i Paesi Bassi altrimenti detti Germania inferiore. In this remarkable book he described all the cities of the Netherlands. The book was published more than 60 times, by various printers. We read his experiences with Antwerp and the Netherlands from 500 years ago. Guicciardini not only described the economy, politics, language, flora, fauna and national character of the prosperous Netherlands, but also criticized the devastating influence of the Spanish War on the prosperous country. A striking amount of attention was devoted to his place of domicile, Antwerp: the model city of the Low Countries.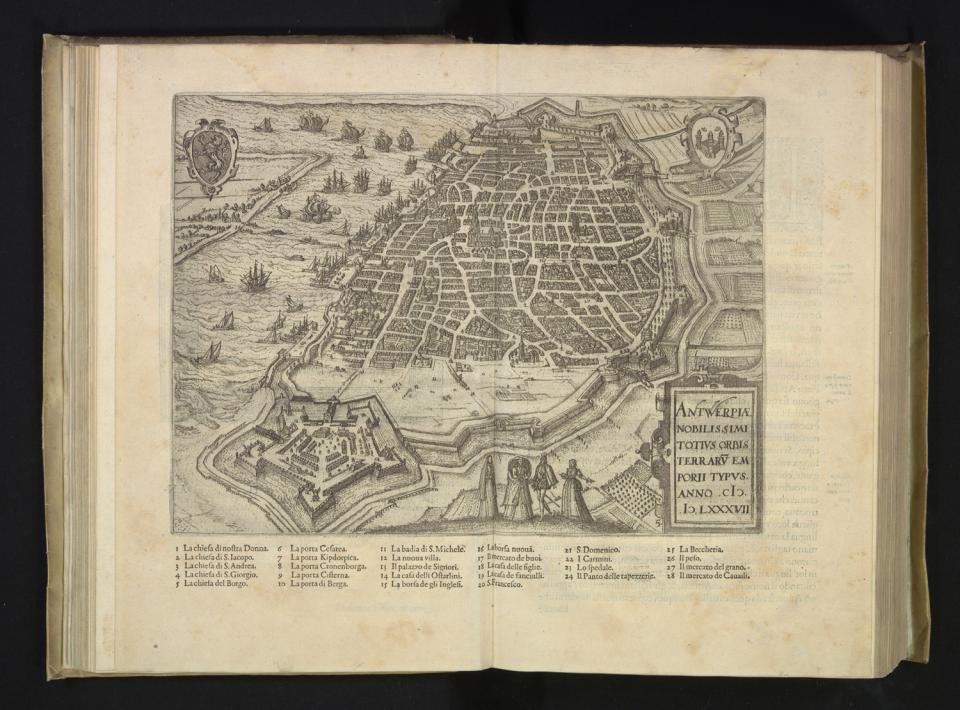 Do we still recognize ourselves in the description?
Guicciardini's Description is a stimulating and challanging work. It conjures up immediate images of landscapes, animals, people and clothing. Well-known depictions of farm weddings, a dog on the hunt.
Can we as city and regional inhabitants still recognize any aspects of ourselves today in Guicciardini's centuries-old descriptions?
Antwerp in the past
The writer Jeroen Olyslaegers explored 16th-century Antwerp in his successful novel Wildevrouw (2020). To accompany the prints in the exhibition, this masterful wordsmith has written eleven compelling stories about the world in which Guicciardini lived.
Antwerp in the present day
Can we recognise any aspects of ourselves today in Guicciardini's centuries-old descriptions? We asked this question to residents and new arrivals from all over. What struck them in particular? What was different then? And what is still the same now? We shall be sharing their experiences in this visitor's guide.
Browse his book
Browse through his work now. The book was illustrated with many maps, city views and plans:
Science at a glance
Science became very popular in the 16th century. The study of ancient text is the start of critical and independent research. With the art of printing, knowledge that was previously only available in manuscripts is now printed in large numbers. The same text reaches more scientists who can respond more quickly. This is how the sciences develop at lightning speed. Crossroads of knowledge The port city of Antwerp and Plantin's publishing house are a crossroads of knowledge exchange. It is therefore not surprising that Guicciardini establishes himself as a merchant in Antwerp and pays remarkably more attention in his book to life in Antwerp. Here new products and knowledge are transformed into merchandise. Plantin prints and disseminates knowledge worldwide. He publishes 55% of all scientific books in the Southern Netherlands.
Antwerp on paper
In the 16th century, the rich trading metropolis of Antwerp acted like a magnet for many Europeans. It is also an Italian who portrays Antwerp. This famous woodcut by Virgilius Bononiensis shows Antwerp in 1565. Bononiensis - or Boloniensis - possibly an Italian from Bologna. In exactly the same period that the Italian Guicciardini from Firenze describes the city of Antwerp. One detailed in words, the other in images. 
This map will be restored in 2021 and will be shown again during the exhibition An Italian in the Low Countries. After the exhibition, this masterpiece will be put back into storage for a few years. So, seize the oppurtynity now this winter.