The object has a handle with ribbons and little bells attached to it. The flat blade has four lateral cuts across almost the entire length. Identical paintings on the front and back of the flat blade refer to Balthasar Moretus as 'Prince' in the year 1638. Apart from the Plantin printer's mark with the compass and the Moretus family motto, 'stella duce', the painting also contains the unknown motto 'teghen Godt geen ghewelt' ('against God no violence'). All these clues suggest that this mysterious object had a ceremonial function, but in what ceremony was it used? The Plantin-Moretus Museum has an idea about the function it may have had.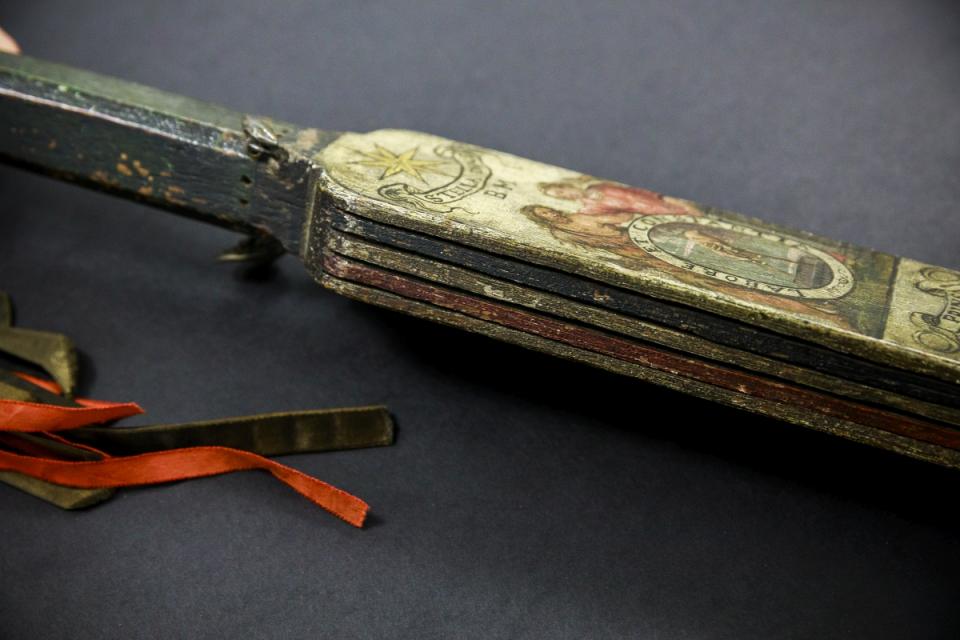 Ceremonial bat
The object could be a ceremonial bat. The 'Prince' of the Plantin press 'Chapel' wielded this symbolic punishment tool in the initiation ceremony for new companions. After a trial period of one year and six weeks, new printers and typesetters were 'liberated' in a compulsory baptism ceremony. The liberated companions entered the employees' organisation of the Plantin printing press. This organisation, known as the 'Chapel', maintained discipline in the printing shop on behalf of the master. In addition, the Chapel's sick fund paid an allowance to sick companions. Every year, the free companions elected a 'Prince' from among their colleagues to run the Chapel. 
The Prince led the liberation ceremony with his beautifully decorated ceremonial bat. The beer flowed freely at the expense of the newcomers. During the singing of the baptismal song, the godfathers struck the new companions with the bat and poured water on them: 'Let's start a new song/ And strike with the bat…/ The godfathers pour water here and grant the name'.
 
Appeal
Do you have a convincing explanation of the function of this mysterious object?
Do you know of a similar object?
If so, let us know: we are eager to hear your contribution to the solving of this riddle.